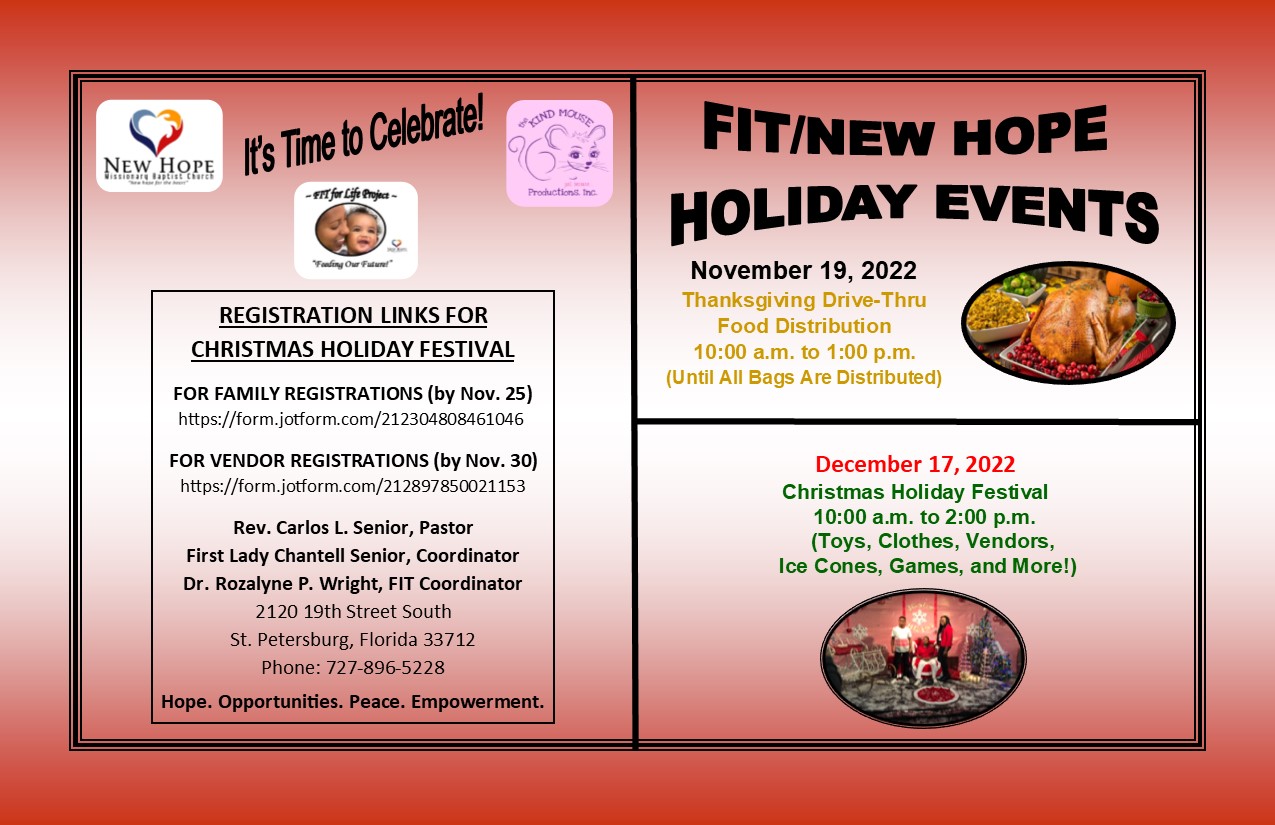 Join us for Thanksgiving Drive Thru Food Distribution Event on Saturday, November 19, 2022, from 10:00 a.m. to 1:00 p.m., or until all food is distributed.
We are also planning for our Christmas Holiday Festival on December 17, 2022, from 10:00 a.m. to 2:00 p.m. If you would like for your child(ren) to participate in the Christmas Holiday Festival, which includes games, toys, clothes, and food distribution, please complete and submit the form at the link below by November 25, 2022.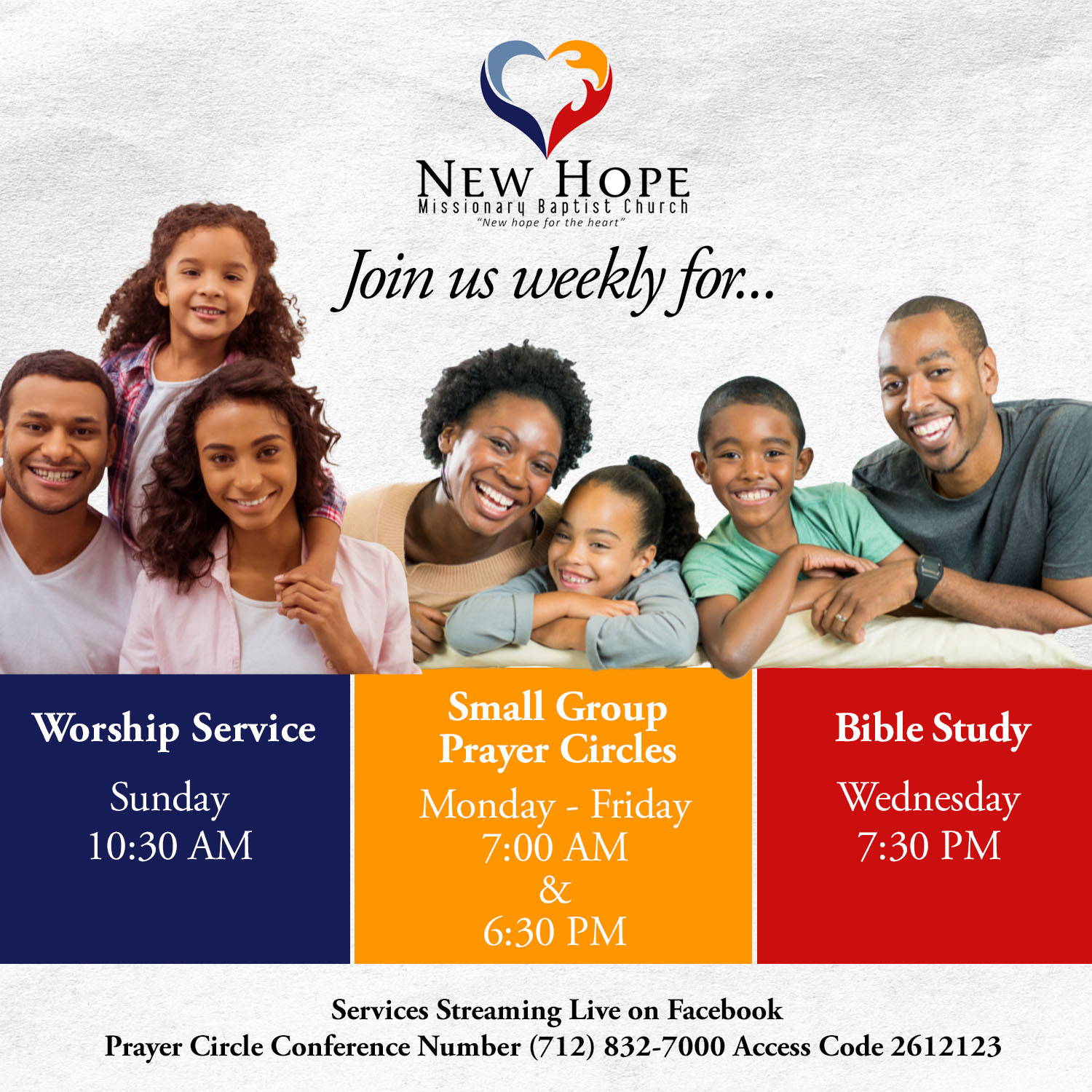 Join Us For Worship
Join us for worship in-person services. 
CDC guidelines will be followed. Don't forget to invite a family member or friend.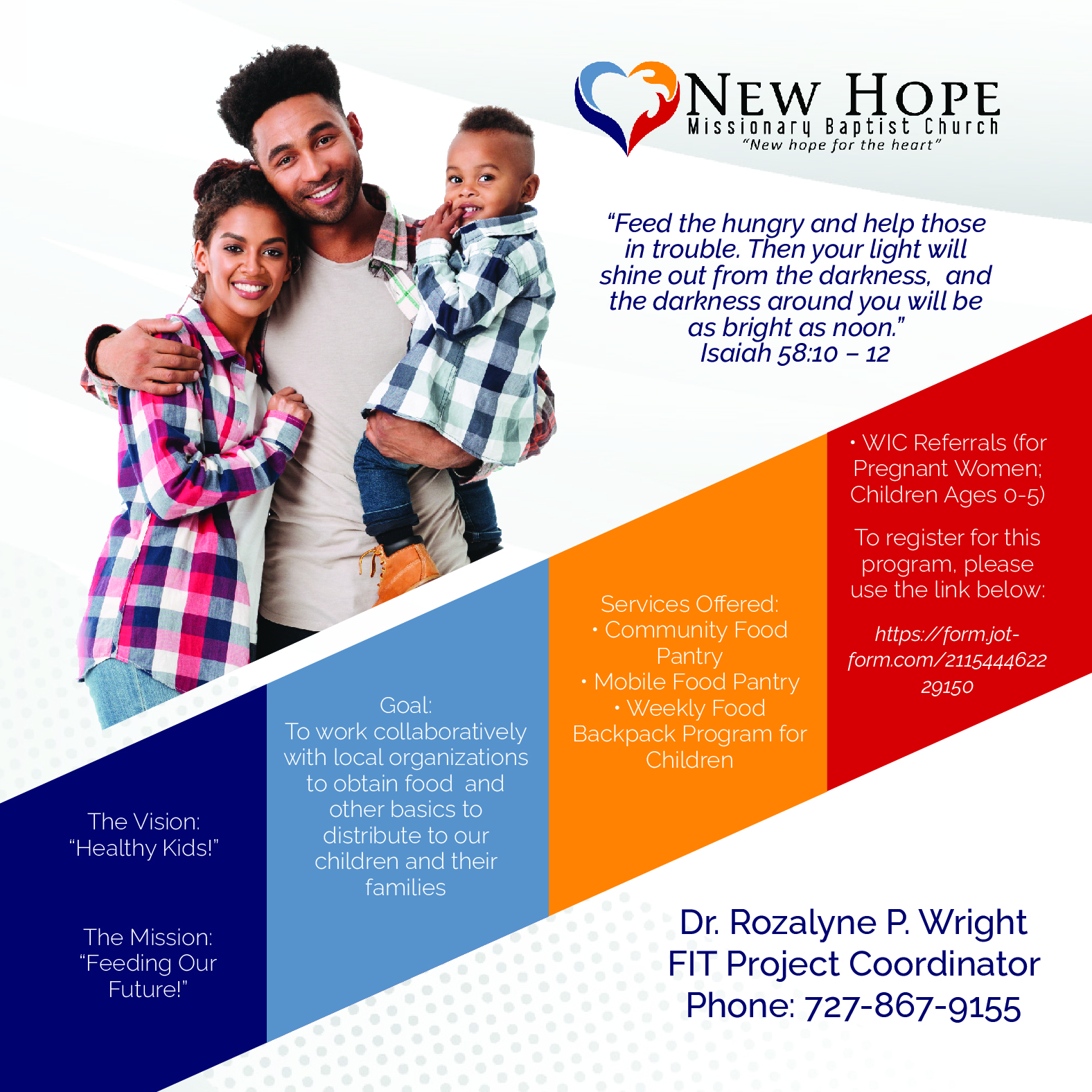 Feeding Our Future
We are here to help.
Contact us for: 
• Community Food Pantry
• Mobile Food Pantry
• Weekly Food Backpack Program for Children
• WIC Referrals (for Pregnant Women; Children Ages 0-5)
To register for this program, please use the link below: https://form.jotform.com/211544462229150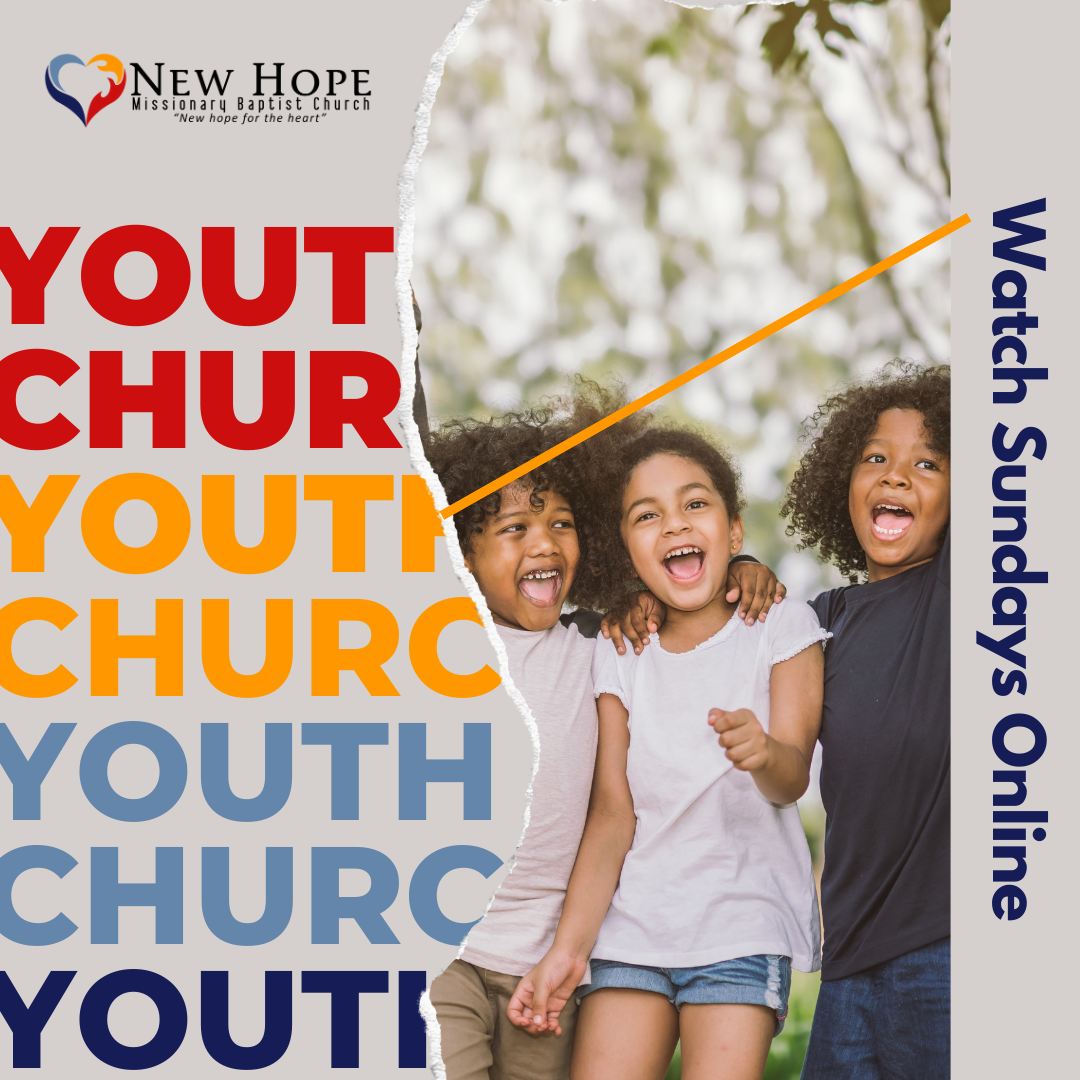 Youth Church Online
Looking to still keep your children involved in the word of God? Then please join us on Sundays for Youth Church school via zoom.
Meeting ID: 974 7968 9151
Phone number to join: 786-635-1003
For more information please contact our Director of the Youth Ministry: Roshelle Peak @ 727-433-4346
Food Giveaway
Come one! Come all to A Food Giveaway
(Perishable & Non-perishable Items)
10:00a.m. – 4:00pm
New Hope Missionary Baptist Church
2122 19th Street South St. Petersburg, FL 33712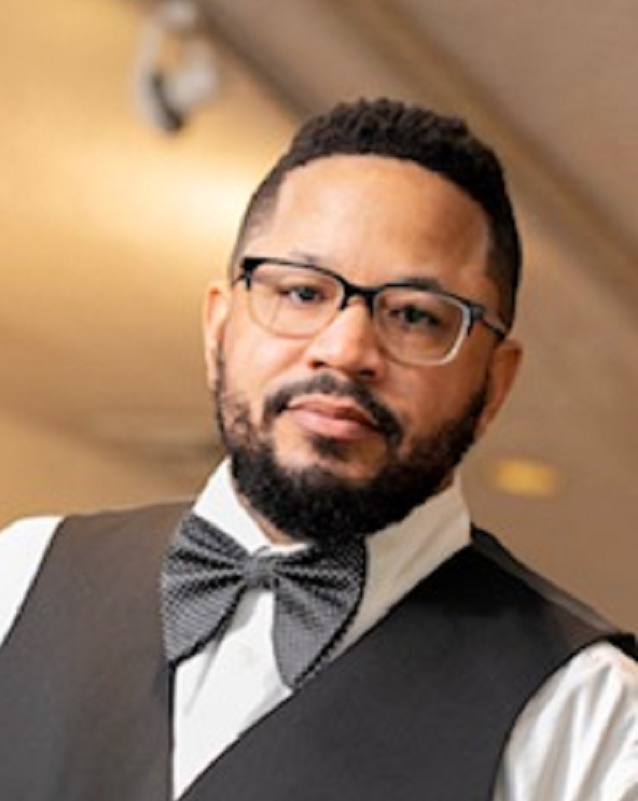 Our Pastor
Carlos Senior 
Carlos Senior is the lead Pastor at New Hope St. Pete. He is a student, teacher, spiritual leader, human services professional, grateful husband, blessed father, loved son, coolest of three siblings and passionate about resourcing underserved communities.
Our vision is to share with the world a pathway to hope and a future.
Jeremiah 29:11 says  For I know the plans I have for you," declares the Lord, "plans to prosper you and not to harm you, plans to give you hope and a future.
Providing a pathway to hope and a future through a loving, learning, connecting and growing Christ-centered community.
Loving
GOD… relentlessly pursuing God with our whole hearts
OTHERS… meeting needs, healing hurts and sharing Christ
Learning
Helping GOD-hungry people see HIM clearly, know HIM fully and follow HIM faithfully
Connecting
Committed to doing life together because we are healthier and stronger in covenant community
Growing
Measuring our spiritual depth by our reach – upward to God and outward to our community.
Christians go through a process to find God and follow Jesus. New Hope offers Pathways that lead people on a journey to learn God's Word. Whether you're just curious about the Christian faith, a new believer or have a strong foundation, New Hope is committed to maintaining settings where the word of God is clearly explained, accurately applied and people get connected.
Partners in the 
FIT for Life Project
 through the "No Kid Hungry" Grant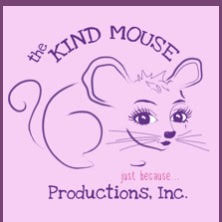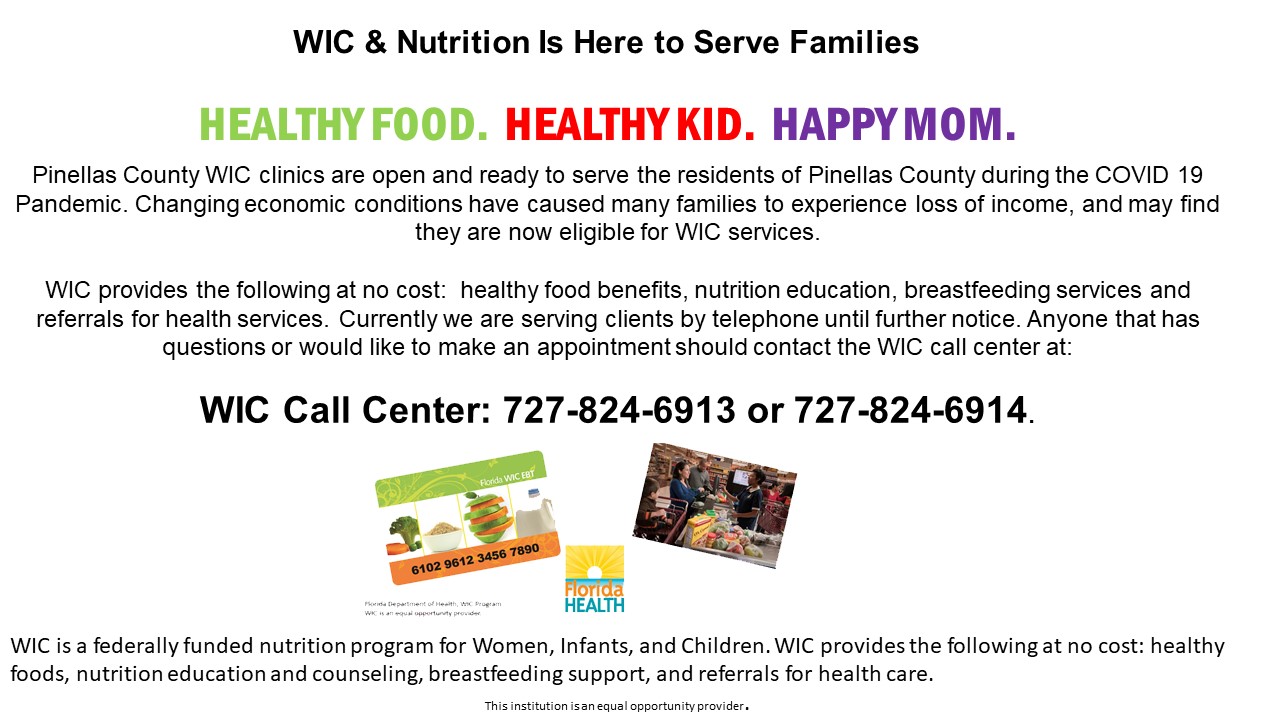 Health And Safety Precautions For New Hope
Corona Virus (COVID-19)
You're Not Alone. We're Praying For You!
"These are the times that try men's souls…" Perhaps, the words of Thomas Paine have never been truer in our lifetime than they are today. At this moment, we are confronted by a crisis unlike anything we have ever witnessed … Corona Virus – 19 (or COVID-19). As one minister stated, "These are extraordinary times, requiring extraordinary means to minister to the people we've been called to serve." Our leadership team has spent countless hours in personal prayer and engaged in robust dialogue; reviewing directives from national, state and local officials; talking and praying with other local pastors; and pouring over CDC and WHO reports in an effort to ascertain God's heart and our best course of action. We have taken nothing for granted and left no stone unturned.
As Pastor, I have noted that many in our community have very strong feelings about how the church should choose to gather during this crisis. Our response is designed to meet the spiritual needs of our members while minimizing exposure to the disease. With that in mind, various precautionary measures are being implemented. We take these measures very seriously and expect our membership to do so as well for the health and safety of all.
We are suspending most on-site activities until further notice. This includes all Adult and Youth Ministry related activities and meetings. Bible Study and other small group studies are being shifted to online platforms. We will provide details for those changes in the very near future. The Intercessory Prayer Team will conduct prayer sessions through teleconferencing on Wednesdays at 6:30 p.m. The Renovation 2020 Prayer-Line still convenes Monday-Friday at 6 a.m.